Details
Released:
12.01.2004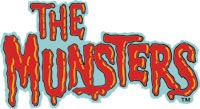 In 1964 the idea of the perfect American TV family was changed forever when "The Munsters", introducing Herman, Lily, Eddie, Grandpa and Marilyn, aired. It was a sitcom of the typical everyday family -- if you could look past the fact that Herman was built by Dr. Frankenstein, Lily and Grandpa were vampires, and Eddie was a werewolf, that is. Each week for two years at 1313 Mockingbird Lane, audiences were entertained by the crazy antics of Herman and the rest of the Munsters who couldn't understand why people reacted to them so strangely.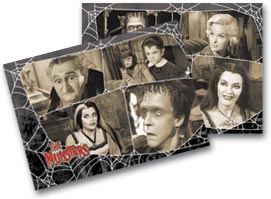 This fall fans can relive this tv classic in an all new The Munsters: The Complete Original Series Trading Cards from Rittenhouse Archives. This 72-card set will feature all new images covering every episode with over 350 images capturing all of the family's antics.
Also covered in this series will be the two movies, "Munsters, Go Home" and "The Munster's Revenge" that both starred the original cast. Each movie will be represented on 9 cards inserted one in every 10 packs. That's 18-cards of Munster Movie Madness! Other chase sets include 1313 Mockingbird Lane and Family Album.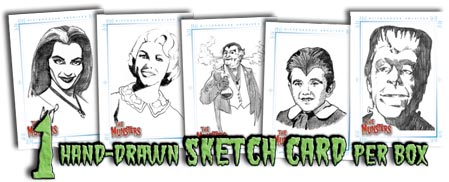 Each box of
The Munsters: The Complete Original Series Trading Cards
will contain one hand-drawn sketch card by artists Warren Martineck, John Czop, Darren Auck, Cris Bolson, Pablo Raimondi, Sean Pence, Dan Schaefer, Emir Riberio and Eduardo Pansica.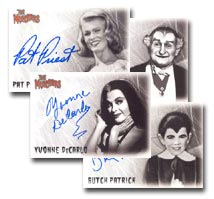 Another hidden mystery from Grandpa's basement lab are four cast signed autograph cards found one in every other box. Look for autograph cards from Yvonne DeCarlo (Lily Munster), Pat Priest (Marilyn Munster), Al Lewis (Grandpa) and Butch Patrick (Eddie Munster).
Each box of The Munsters: The Complete Original Series Trading Cards will contain 40 packs with a suggested retail price of $2.00 per pack and $80.00 per box. Fans and collectors will also be able to store their collections in a custom designed collector's album, which will retail for $39.99, and contains both an exclusive promotional card and an exclusive hand-drawn sketch card by artist John Czop.