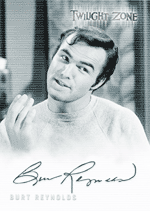 Rittenhouse Archives once again delivers 2 autographs per box* in its all-new Twilight Zone: The Next Dimension trading cards scheduled for release November 29. Burt Reynolds, Jack Klugman, William Shatner, Buddy Ebsen, Beverly Garland, Shelley Berman and many more top quality actors will have personally signed cards for this incredible new edition. There will be 17 different autographs in this year's collection, plus a bonus autograph signed by Suzanne Lloyd available exclusively with purchase of the Twilight Zone: The Next Dimension collector's album.

A total of 8,000 sequentially-numbered boxes will be made, the same quantity as last year's edition, which was a complete sell-out! Also, there will be 1,500 collector's albums, also the same quantity as last year's sold-out albums.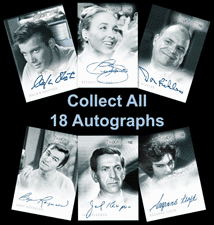 The complete collection will consist of 72 base cards featuring 12 different classic episodes, each in its own 6-card subset. Plus, there will be a 9 Twilight Zone Stars (1:6 packs), 1 checklist (1:10 packs) and 3 Rod Serling Cards (1:40 packs) as bonus cards. All photography used in the collection has been culled from completely remastered copies of the original Twilight Zone film.
Once again, Rittenhouse offers a Twilight Zone Challenge game, in which a specially marked game card will be inserted into each 9-card pack. Collectors who successfully spell out "ROD SERLING" will receive a highly limited autograph card signed by Elizabeth Allen ("The After Hours").
As a special bonus to dealers and collectors who purchase full 12-box cases, Rittenhouse inserted a Rod Serling Hall of Fame Card signed by Steven M. Charendoff (president of Rittenhouse Archives) that was limited to 777 cards plus a Pat Hingle Autograph card as a case topper (not available in the boxes or packs).