Released On:
10.12.2005

This product is Sold Out , but please check with a dealer in your area.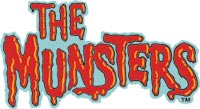 In 1964 the idea of the perfect American TV family was changed forever when "The Munsters", introducing Herman, Lily, Eddie, Grandpa and Marilyn, aired. It was a sitcom of the typical everyday family -- if you could look past the fact that Herman was built by Dr. Frankenstein, Lily and Grandpa were vampires, and Eddie was a werewolf, that is. Each week for two years at 1313 Mockingbird Lane, audiences were entertained by the crazy antics of Herman and the rest of the Munsters who couldn't understand why people reacted to them so strangely.
Rittenhouse Archives presents to fans and collectors a limited edition set of autograph cards from the show original cast including: Yvonne DeCarlo (Lily Munster), Pat Priest (Marilyn Munster) and Butch Patrick (Eddie Munster). Only 499 sets will be made available worldwide and as an added bonus we have included a 5 card set featuring all 5 members of the family (Herman, Lily, Grandpa, Eddie and Marilyn).