Released On:
08.24.2001

SRP Box -
SOLD-OUT

SRP Set -
SOLD-OUT

Checklist

SketchaFEX Checklist

This product is Sold Out , but please check with a dealer in your area.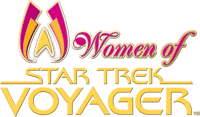 Star Trek: Voyager is back! After more than a year since the last Star Trek: Voyager trading card set, Rittenhouse Archives is pleased to bring you
The Women of Star Trek: Voyager HoloFEX ™
trading cards. The most dynamic Star Trek trading card set ever, this all-new series features 2 autograph cards in every box, randomly inserted
costume cards
and
hand-drawn sketch cards
, and a 72-card base set with every card printed on extra thick, holofoil with gold foil-stamping and a super glossy lamination. These are standard size (2-1/2"x3-1/2") cards, and they are not lenticular (like our previous Star Trek cards).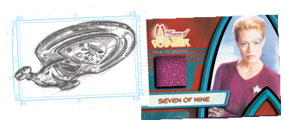 With the exception of Jeri Ryan (Seven of Nine), none of the autograph signers have ever signed for a Star Trek: Voyager trading card series in the past. Besides Jeri Ryan, our impressive list of signers includes Martha Hackett (Seska), Sharon Lawrence ( Amelia Earhart in "The 37's"), Virginia Madsen (Kellin in "Unforgettable"), Lori Petty (Noss in "Gravity") and many more. We have even included a special autograph tribute to Seven of Nine, with a subset of cards signed by various actors whose characters are closely connected to her. Among those signing will be Katelin Peterson and Erica Lynne Bryan, both of whom played young Annika Hansen (Seven of Nine's real name) in "Dark Frontier" and "The Raven," respectively; Laura Stepp (Erin Hansen, Annika's mother) and Kirk Baily (Annika's father). Images of Seven of Nine will be featured on each of their cards.