Released On:
12.21.2001

SRP Box -
SOLD-OUT

SRP Set -
SOLD-OUT

Checklist

SketchaFEX Checklist

This product is Sold Out , but please check with a dealer in your area.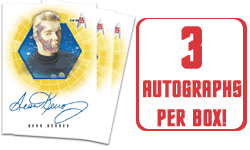 Come celebrate the 35th anniversary of Star Trek: The Original Series with our
Star Trek HoloFEX
Trading Cards. Each box contains 3 autographs cards, including Joanna Linville (Romulan Commander), Sean Kenney (Capt. Pike), Sally Kellerman (Dr. Dehner), Jane Wyatt (Spock's mother Amanda) and many more! As an added bonus, there will be an autograph card signed by
both William Shatner AND Leonard Nimoy
!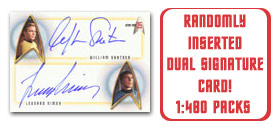 The entire 72-card base set will be printed on high-quality, super-glossy holofoil with at least 5 different photos on the fronts of each card. Hand-drawn sketch cards will also be included. Limited Edition of 10,000 numbered boxes.