Released On:
03.30.2005

This product is Sold Out , but please check with a dealer in your area.


Original Planet of the Apes
Behind the Scenes Trading Card Set


This all new collection features 18 stunning
Behind the Scenes
images featuring Charlton Heston, Linda Harrison, Roddy McDowell and more from the 1969 "Planet of the Apes" film. As an added bonus, this set comes with an
Exclusive Linda Harrison Autograph Card
AND
2 Exclusive Costume Cards
featuring materials worn in the original Planet of the Apes and Conquest of the Planet of the Apes films.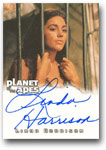 If you are a fan of this classic, if not seminal, piece of science fiction film-making, this collection is a MUST! Limited to only 333 numbered sets these cards will soon be sold out, so don't get lost in the Forbidden Zone, order your set today.