Released On:
04.29.2009

Checklist

This product is Sold Out , but please check with a dealer in your area.



ONLY IN THEATERS
Rittenhouse Archives proudly presents
X-Men Origins: Wolverine
Movie Trading Cards, based on the feature film only in theaters May 1st, 2009. This oustanding card collection features autographs signed by
• Liev Schreiber as Victor Creed
• Lynn Collins as Kayla
• Taylor Kitsch as Remy LeBeau
• Julia Blake as Heather Hudson
• Stephen Leeder as General Munson
• Tim Pocock as Scott
• Gavin Hood - Director

• Hugh Jackman as Wolverine
• Ryan Reynolds as Wade Wilson
• Danny Huston as William Stryker
• Daniel Henney as Agent Zero
• Kevin Durand as Fred J. Dukes
• Troye Sivan as Young Logan
• Michael-James Olsen as Young Victor
• Aaron Jeffrey as Thomas Logan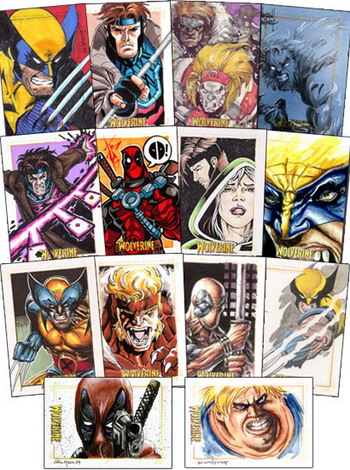 (TOP ROW: Chuck George, Kevin West, Carlo Sinfuego Soriano, Warren Martineck
SECOND ROW: Tony Perna, Benjamin Glendenning, Chris Bradberry, John Haun
THIRD ROW: Jim Kyle, Kevin West, Anthony Tan, Ken Branch
BOTTOM ROW: John Haun, John Haun)
There will be
2
Super-Collectable Cards Per Box including
Autograph cards
, and
Sketch Cards
!
Each case will come with a numbered X-Men Origins: Wolverine Movie Poster card.
For every 2 cases purchased you will receive an autograph card signed by will.i.am as John Wraith. For every 4 cases, you will receive an hand-drawn and painted sketch card from Mark McHaley. For every 15 cases purchased you will receive a X-Men Origins: Wolverine Archive Box. "Hidden" Archive boxes can be randomly found within the product as well, so keep your eyes open for the bright orange sticker on the inside bottom of your box.
Fans and collectors will also be able to store their collection in a custom designed collector's album which contains an exclusive promo card.





Marvel, X-Men and all related characters: TM & © 2009 Marvel Characters, Inc. All rights reserved. X-Men Origins: Wolverine, the Movie: © 2009 Twentieth Century Fox Film Corporation. All rights reserved.