Released On:
07.27.2001

SRP Box -
SOLD-OUT

Checklist

This product is Sold Out , but please check with a dealer in your area.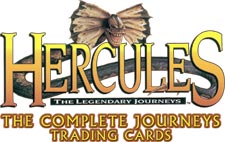 3 autographs per box! 3 autographs per box! Did we forget to say that there were 3 AUTOGRAPHS PER BOX? And you won't believe who has signed. The list includes Kevin Sorbo (Hercules), Sam Sorbo (Serena), Alexandra Tydings (Aphrodite), Meighan Desmond (Discord), Martin Kove (Demetrius), Michael Hurst (Iolaus), Robert Trebor (Salmoneus), Cory Everson (Atalanta), Kevin Smith (Ares), and more! WOW! And if that's not enough, the 120-base set is our largest ever and covers all 111 of the show's episodes. As an added bonus, each case will contain an exclusive "From The Archives" costume card with material from a pair Hercules' legendary leather pants! This is the ULTIMATE Hercules card set!
On the right: Hercules' Leather Pants before they were cut up to produce the case topper "From The Archive" card.