Released On:
05.22.2013

Checklist

This product is Sold Out , but please check with a dealer in your area.

Download Color Ad Page


Rittenhouse Archives is pleased to announce Game of Thrones Season Two Trading Cards
with autograph signers including the following characters:
88-Card Base Set, featuring detailed plot synopses for all 10 season two episodes, and biographies for more than 50 different characters! Plus several exciting bonus sets!

Set Configuration: 5 Cards Per Pack, 24 Packs Per Box, 12 Boxes Per Case
Tyrion Lannister (played by Peter Dinklage)
Ygritte (played by Rose Leslie)
Margaery Tyrell (played by Natalie Dormer)
Daenerys Targaryen (played by Emilia Clarke)
Queen Cersei Lannister (played by Lena Headey)
Brienne of Tarth (played by Gwendoline Christie)
Robb Stark (played by Richard Madden)
Tywin Lannister (played by Charles Dance)
Jaqen H'ghar (played by Tom Wlaschiha)
Littlefinger (played by Aidan Gillen)
Joffrey Baratheon (played by Jack Gleeson)
Spice King (played by Nicholas Blane)
Maester Luwin (played by Donald Sumpter)
Pyat Pree (played by Ian Hanmore)
Yoren (played by Francis Magee)
Stannis Baratheon (played by Stephen Dillane)
Loras Tyrell (played by Finn Jones)
Qhorin Halfhand (played by Simon Armstrong)

Shae (played by Sybil Kekilli)
Jon Snow (played by Kit Harington)
Sansa Stark (played by Sophie Turner)
Ser Jorah Mormont (played by Iain Glen)
Lancel Lannister (played by Eugene Simon)
Jaime Lannister (played by Nikolaj Coster-Waldau)
Lady Catelyn Stark (played by Michelle Fairley)
Yara Greyjoy (played by Gemma Whelan)
Arya Stark (played by Maisie Williams)
Varys (played by Conleth Hill)
"The Hound" (Rory McCann)
Xaro Xhoan Daxos (played by Nonso Anozie)
Osha (played by Natalia Tena)
Gregor Clegane (played by Conan Stevens)
Doreah (played by Roxanne McKee)
Renly Baratheon (played by Gethin Anthony)
Dagmer Cleftjaw (played by Ralph Ineson)
...and many more!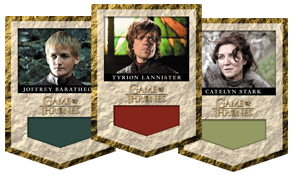 Also, look for randomly inserted
RELIC CARDS!
For every 3 cases purchased, you will receive an autograph card signed by either David Benioff (Executive Producer) or D.B. Weiss (Executive Producer)

For every 6 cases purchased, you will receive an bonus autograph card signed by Game of Thrones author George R.R. Martin (Co-Executive Producer)

For every 18 cases purchased, you will receive a bonus Game of Thrones: Season Two Archive Box